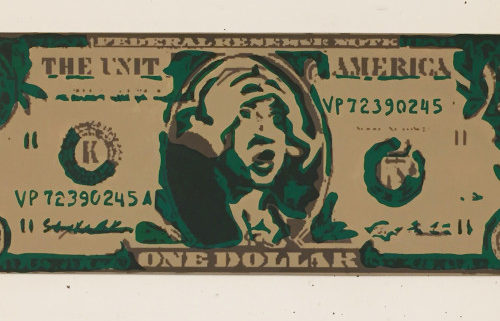 Art has always been used as a way to describe and depict revolutions, so it's no surprise that artists are choosing the themes associated with blockchain technology as inspiration for art that is relevant in the modern climate. Bitcoin of course has its origins in the disillusionment and anger caused by the 2008 financial crisis and the subsequent bailout of the banking elite. It was created as a radically new (revolutionary?) alternative. Artists clearly sense the revolution that has been started by the decentralization movement. Themes that are being explored in the crypto-inspired art include the quest for freedom, trusting in math rather than people, globalized decentralization, regulation, new governance models, and balance of power.
Fine Art
These themes have first and foremost been expressed in fine art that is sold online and in galleries around the world. London-based Italian artist Valentina Picozzi is exploring them in her Satoshi Gallery, a collection started in 2015 with the idea to "make Bitcoin cooler from an iconographic point of view, in order to reach more people and help them embracing Bitcoin values.":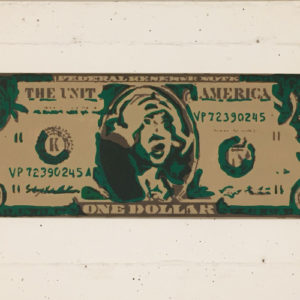 A screaming George Washington, selling for ₿0.5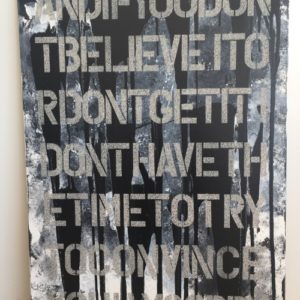 A famous quote from Bitcoin's "founder" Satoshi Nakamoto, selling for ₿0.8
Another well-known visual artist working in this space is Vesa Kivinen, who started ArtForCrypto.com. Vesa produces mixed media works by taking photographs of his oil and body-paintings as well as images from nature. The digital collages are then printed onto high end diasec, canvas, re-painted canvas and poster prints: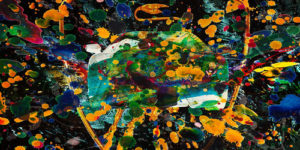 "What Color Lamborghini Should I Get?"
Pop Art and T-shirts
The themes currently being explored are also increasingly expressed in pop-art form and on T-shirts and other accessories.
Julia Tourianski is one artist in this space. As a promoter of anti-state mentality, she makes videos, writes articles, and helps organize events such as Toronto's Liberty Now. She also produces and sells pop-art through her website Bravetheworld.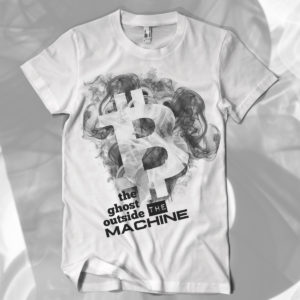 Another active artist in this space goes by the name Cryptograffiti and creates art through the lens of "the blockchain challenging the status quo."  Early in his career he was on the first artists to utilize a public-facing wallet to receive crypto donations for street art. This enabled passersby to send bitcoin in support of his art.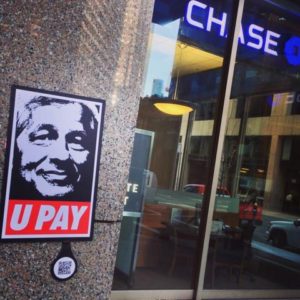 Cryptograffiti's "U Pay" street art
In addition to the usual media that artists work in, crypto-inspired art has been evolving into a few unique platforms:
Cold Storage Artwork
This is a medium that is being notably explored by Texas-based CryptoArt, which helps people understand, enjoy, and collect digital currencies.
The crypto-themed artwork doubles as a public address (displayed in a QR code on the front) and a cold storage wallet (with the private key sealed under a security sticker on the back).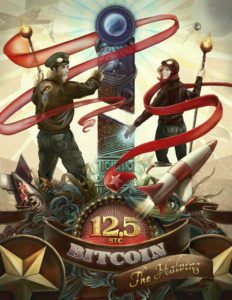 Physical Coins
Cyptocurrencies of course have no physical form, but a thriving niche of collectors and enthusiasts have created demand for artists to produce beautifully crafted coins inspired by them. These coins serve the double purpose of giving a physical representation when explaining cryptocurrencies to newcomers, and as a collector's item for those who see them as a piece of the technology's history.
Maxfield Mellenbruch, expanding on the ethos of cryptocurrencies through his stunning series of physicals, is behind Kialara a collection of intricately designed physical coins with high-quality craftsmanship. Some of the coins, like the cold storage artwork, can be loaded with actual crytpocurrency.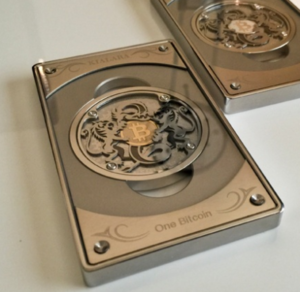 A different form of physical Bitcoins is being created by Los Angeles-based German artist Matthias Dörfelt, who uses the hashes from 64 random blocks combined with his unique software to make an eccentric pattern that in its way is a physical representation of a coin. Dörfelt says every bill is created entirely with code except for the signature. Dörfelt has created a series of 64 banknotes from the blockchain.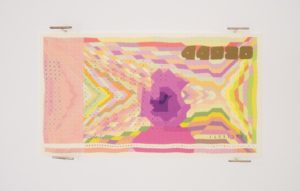 "Block Bills" by Matthias Dörfelt
https://vooglue.io/wp-content/uploads/2018/01/IMG_6794-500x500.jpg
500
500
Ratko Stambolija
https://vooglue.io/wp-content/uploads/2020/03/corporate-logo.png
Ratko Stambolija
2018-01-12 08:40:52
2018-01-12 08:40:52
Stunning Pieces of Cryptocurrency-themed Art