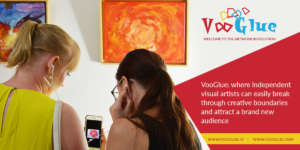 In the art market there's a growing gap, both economic and cultural, between the old world and the new.
In the old world, the traditional art market continues to set auction house records for art works produced at least decades and often hundreds of years ago. In the new world, we have the emergence – thanks to democratizing technologies that enable the production of high quality art at vastly reduced costs – of a new generation of artists who produce, market, and sell their art completely outside of the traditional channels.
From a buyer's perspective, the barrier to entry in the traditional art market is extremely high, and growing. $50,000 can be considered a reasonable minimum to purchase artwork through the traditional channels such as auction houses and galleries.
A new generation of buyer's however, has emerged to purchase the artwork of the new generation of artists. In this new world, which we can call the "over the counter" (OTC) art market, $5000 is considered plenty to make a purchase of high quality artwork by a well-known artist.
For Art Market historians, the last twenty years have seen more significant structural changes than throughout the entire 20th century. Artprice.com, a leader in the aggregation and documentation of artistic styles and mediums, has released some fascinating statistics in this regard:
In 1997 their databases showed 127 artistic movements since the birth of the art market. That number is now up to 325 (more than doubling in the last 20 years). Even more indicative of the rapid changes brought on by the digital revolution, regarding artistic techniques, Artprice's art historians and experts in 1997 counted 212 artistic techniques since the origins of art. That number is now at over 850 and counting.
A few more statistics illustrate clearly the changes that have come to art world. Again according to Artprice's databases, the number of artists who have – in the traditional channels – at least one public sale to their name from the 14th century to the present day totals just 657,000.  
The number of actual artists in the present day, however, is much higher; Artprice estimates 1.2 million living OTC artists. These are people defined as those whose primary source of income is the art they produce, yet to the traditional art world, they hardly exist.
Taking just one genre of art – "street art" – we can see, again according to Artprice's data, that the traditional market has represented fewer than 3,285 Street artists – ever – yet more than 125,000 Street artists currently live off their work.
Adding to this 1.2 million OTC artists, we have an even larger pool of what may be termed "part-time artists." Artprice has developed analytic tools with strict criteria to select OTC artists on Facebook whose pages are exclusively dedicated to their artistic production and distribution. The result: at least 1.8 million pages.
All of these artists crave access to global sales networks. If they get it, they will thrive, and by extension so will art itself.
While VooGlue has in its roadmap a plan to enable buyer access to highly priced "traditional artwork" through its tokenization and listing on our marketplace, it's these OTC artists who form our primary initial market.
VooGlue's gluing of a digital multimedia counterpart to a wall hung artwork – which itself can be considered a new artistic technique to be added to the 850 and counting documented by artprice.com – is another tool that artists can use to promote and monetize their art.
VooGlue is actively adding selected seeder artists to its platform to experiment with this new style and movement, and create collaborations between art, music and film.  
Additionally, VooGlue's system of affiliate links in combination with the creation of a marketplace that enables low-cost transactions for the buying and selling of art, add to OTC artists' ability to disseminate and profit from their work. By serving them, we aim to push forward the quality of art itself.
For more information on how to benefit from connecting digital media to your artwork through the VooGlue app, please contact pr@vooglue.io.
https://vooglue.io/wp-content/uploads/2020/03/corporate-logo.png
0
0
Graham Stone
https://vooglue.io/wp-content/uploads/2020/03/corporate-logo.png
Graham Stone
2018-02-21 02:32:54
2018-02-21 02:32:54
VooGlue Focuses on Burgeoning OTC Art Market